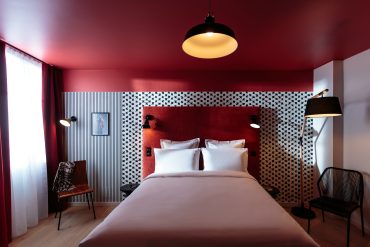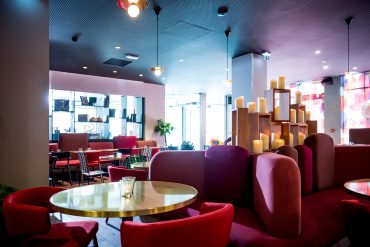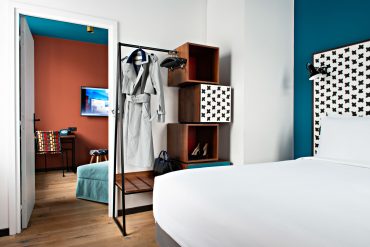 Rooms & suites
The ultimate change of scenery right in the middle of Strasbourg! Ideally situated in the city centre, BOMA offers you a relaxing stay in acool ethnic chic setting! You'll be pleasantly surprised by the African-influenced design and excellent level of comfort of our rooms. You'll love the graphic, but cosy style of the decoration!
BOMA takes care of your sleep with top-quality bedding: the Simmons BOMAtelas mattress specially created for the hotel, HEFEL duvets made of Tencel, a natural, sustainable fibre, DODO plant-based memory foam pillows. Street-side or courtyard-side, with or without a balcony, every room at BOMA has its advantages. Shower or bath – just ask, everything's possible. Take pot luck, you won't be disappointed!
BOMA Le restaurant
This is what we call the BOMA living space, the place where all the hotel's guests can meet, but not only them! It's also a place where locals love to come.
It's open to all from 7 am to 10 pm and, as you'll see, the atmosphere changes as the day progresses.Whether it's for breakfast, to do a spot of work, to have lunch, a post-work or pre-dinner drink or dinner, for an evening concert or a live music session, it's a place where it feels good to be.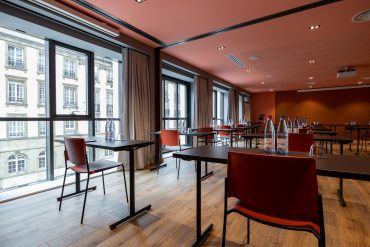 Seminars
For your events, BOMA boasts 5 impeccably appointed seminar rooms with views over one of Strasbourg's most attractive pedestrian streets. The perfect environment and atmosphere to get creative and effective. Contact us, BOMA can adapt to your needs!
Events
Small groups of live musicians, DJ sessions, BOMA & YOU events – check out our calendar of events or our Facebook page.
And to make sure you don't miss anything, join the BOMA Social Club – you'll get all the latest news direct to your inbox.
Services
Private car park
(booking required)
Pets accepted
(with a supplement)
Private exercise and wellness sessions
Shop
For the BOMA Shop we select local originalcraft products: jewellery by Gigi Clozeau, Made by Papa, small leather goods, Alsatian products by Alsatrucs, candles, etc. BOMA has had fun selecting board games and adult games and bags. And we also give you the chance to take away the favourite bits of your room or the bistro: you can buy telephones, lamps, personalised Villeroy & Boch mugs, food items (BOMAdeleine, wine, jam, honey, etc.).
The BOMA shop, not to be missed for a treat for yourself or someone you love.