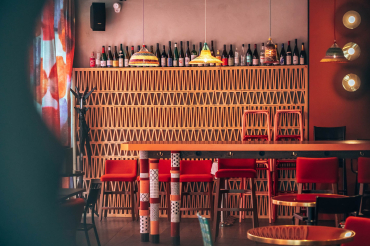 Theme
Concept
"The BOMA is a concept, a living space that we have recreated in the heart of our hotel. In Africa, a boma is a fenced enclosure that protects people and livestock from wild animals. It is a convivial space, where people gather around the fire to eat, dance, talk. We've reinvented that space for you with a large area combining a restaurant, bar and shop. And the vibe? Ethnic chic, with high stools, sofas, armchairs, design chairs, modern poufs, high and low tables, large and small.. Just come in and take a seat".
Stéphanie Scharf, Innovation Concept Director
Values and commitments
Kindness, conviviality and generosity: BOMA offers you a welcoming space, conducive to meeting people, where everyone can feel at ease. BOMA is also about defending the values that are dear to us! With a deep attachment to our region and to the planet, BOMA is committed to reducing its carbon footprint to help protect the environment. Planting an aromatic herb garden and recycling left-over soap by Sapocycle are just two examples.